Porcelain Veneers Near You
Our dentist is dedicated to creating the perfect smile. We know your smile is an important asset that conveys positivity, energy, and warmth. A beautiful smile will not only help you feel more attractive, but it will also improve your confidence. We offer porcelain veneers in Kelowna to enhance the beauty of your natural smile.
What Can Porcelain Veneers Treat?
Porcelain veneers can address various cosmetic dental concerns, which include the following:
Worn teeth
Minor misalignment
Gaps between teeth
Discolouration
Misshapen teeth
Uneven teeth
If you're interested in receiving porcelain veneers near you, please contact us to schedule a consultation. Our dentist will determine if veneers are the ideal treatment for your concerns. If you have severe misalignment and crowding, our dentist may recommend other alternatives as veneers are ideal for mild to moderate concerns.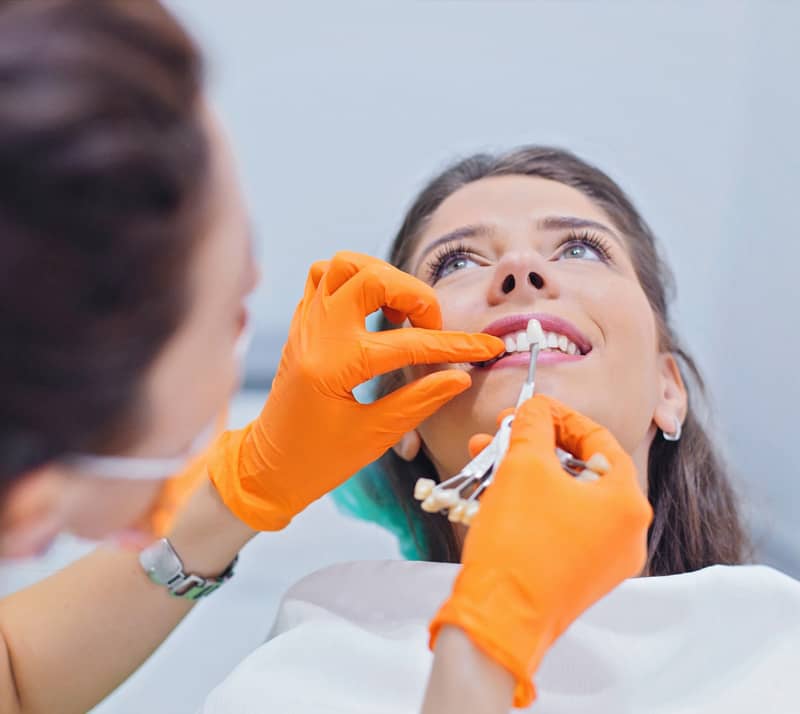 The Benefits of Receiving Porcelain Veneers
There are many reasons why porcelain veneers are a great cosmetic dental option, including:
They improve the appearance of your smile
They are made of a stain-resistant material
They improve your confidence
They look natural
The results are long-lasting
The procedure is customized
Porcelain veneers are an excellent option to improve your appearance. This simple treatment can brighten and give you a radiant-looking smile. Please do not hesitate to contact us if you have any questions or would like to learn more about receiving veneers.
The Process of Receiving Veneers
If you would like to receive porcelain veneers near you, our dentist will first determine if you are an ideal candidate for this procedure. If you qualify, we will take impressions to create custom-fit veneers. We will also remove a thin layer of enamel to make room for your new veneers. We will schedule your second appointment after your veneers have been crafted to permanently place and polish them.
Tips to Maintain Your Veneers
Veneers can last for many years with the proper care. The following are tips we recommend to maintain your veneers:
Avoid foods that can damage your veneers
Practice good oral hygiene
Avoid chewing on ice
Receive regular dental cleanings and check-ups
Wear a mouthguard to protect your teeth when engaging in sports
Avoid clenching and grinding your teeth
Are you interested in receiving porcelain veneers near you? At Swift Dentistry, we provide quality porcelain veneers in Kelowna. Contact us to learn more or to schedule a consultation.